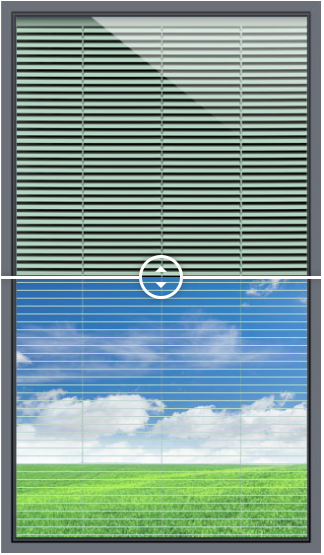 Venetian BLINDSA HIGH PERFORMANCE control of light and shade
Being permanently sealed within the cavity of the double-glazed units makes our Venetian integral blinds unrivaled in the control of light and shade, and the only viable option for light control in bi-folding and sliding doors. The integral blind system which is sealed between glass ensures that you have one of the safest blind systems available.
We offer a huge range of colours to suit any style along with 5 blind control types ranging from manually operated to fully automated solutions. Whether you are seeking a new fit out or wish to retro fit in existing frames we can supply the the perfect integral blinds to suit your requirements.
Designed in Italy, manufactured in the UK and offered with our 5 year guarantee our integral blinds offer the most stylish way to control light and shade in your home
Venetian Colour Range
Colours to match any home, choose from our range of stunning colours and finishes - see our larger swatch and performance indicators that go with each colour finish below

Blinds that stay clean and safe
Our Integral blinds are manufactured to the highest standards and specifications. Once sealed in the dust-free environment of the glazing cavity they will require no cleaning, always appear new and are protected from damage

C System
Manual control Integral blind control system

C System is a patented magnetic system with manual operation (raising and tilting function) for Venetian blinds incorporated within 20mm – 22mm cavity insulating glass units. The external magnet, fixed to the internal glass by double-sided high performance adhesive, allows perfect alignment with the internal magnet. Raising and lowering is controlled using a continuous cord loop that drives the external magnet
The cord is held lightly under tension by a cord tensioner and fully complies with the British Blind and Shutter Association – 'Make it safe' campaign. The system is supplied with warm edge spacer bars as standard
C System Benefits
Suitable for all vertical window applications

Ideal solution for conservatory shading

Only viable option for bi-folding doors

Total privacy and light control for folding sliding doors

Gives excellent utilisation of partitioned office space

Suitable for retro installation into existing frames
S & SV System
Cordless slider Integral blind control system
ScreenLine® SL20SV is a manually-operated patented magnetic system with raising and tilting function for Venetian blinds encapsulated within 20mm cavity double glazing units. SL20SV is operated by a magnetic slider, placed on the right or left-hand edge of the glass. A narrow adhesive transparent profile ensures the linear movement of the slider. The blind is raised and lowered by moving the slider up or down and is tilted by slightly lifting or lowering the same slider. SL20SV is suited to all types of window frames. The integrated unit is as straight forward to fit as a standard IGUs. The system is supplied with warm edge spacer bar as standard

W Swipe System
Solar powered Integral blind control system
The latest in innovative and ecological Italian design, the W Swipe is a battery operated, motorised blind system tilising Venetian or pleated blinds, encapsulated within a 20, 22 or 27mm cavity double glazed unit. The encapsulated blind is raised and lowered, and in the case of the Venetian blind, slat-tilted via a discreet slide button control which is magnetically attached to the double glazed unit

W Swipe System Benefits
Streamlined installation procedure

No need for electrician to install

Hard-wired power supply not required Energy saving

For 20, 22 and 27mm cavity, in Venetian and pleated versions

Small sized battery module, developed in co-operation with design specialists

Touch control keys

Radio remote control supplied as standardBatteries recharged by means of a micro-USB connector

Batteries can be easily replaced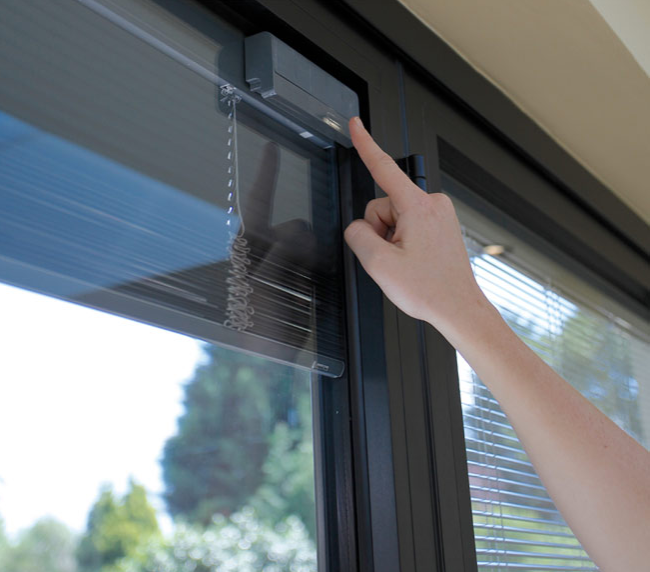 MB System
Motorised brushless powered Integral blind control system
C System is a patented magnetic system with manual operation (raising and tilting function) for Venetian blinds incorporated within 20mm – 22mm cavity insulating glass units. The external magnet, fixed to the internal glass by double-sided high performance adhesive, allows perfect alignment with the internal magnet. Raising and lowering is controlled using a continuous cord loop that drives the external magnet
The cord is held lightly under tension by a cord tensioner and fully complies with the British Blind and Shutter Association – 'Make it safe' campaign. The system is supplied with warm edge spacer bars as standard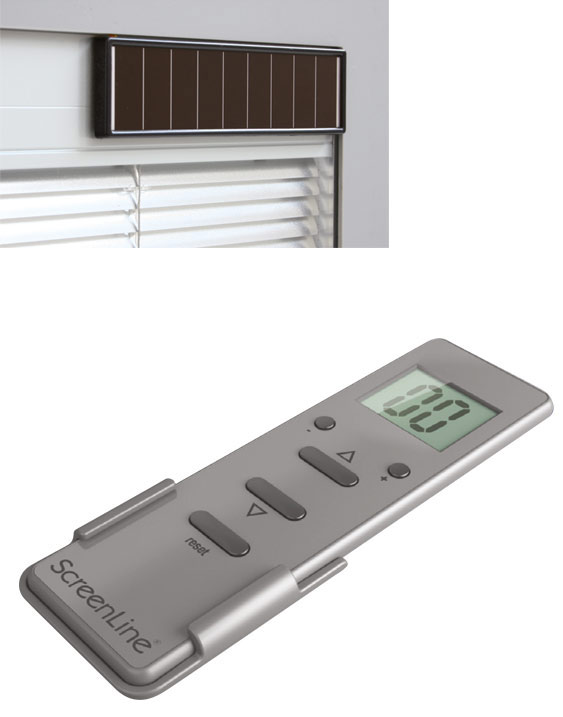 As Approved Installers for Morley Blinds in Glass, we offer our dedicated survey and install service throughout South Wales including Abergavenny, Newport, Cardiff, Barry, Monmouth, Chepstow and Brecon areas and beyond

0