Reduce wasted energy. Reduce home heating bills.
Choosing triple glazing has the potential to further reduce the heat loss from windows. It can perform up to a third better then double glazing, and is ideal for large glazed areas. In fact, triple glazing could reduce your total heating costs by up to £766 a year
Choose the best looking frames.
SafeChoice triple glazed windows feature low profiles with reflective spacers - so you can't see them at the window edge. Clear, uncluttered sightlines ensure windows look well proportioned, elegant and attractive. And what's more, unlike make triple glazing suppliers, SafeChoice triple glazing is available in the same wide range of colours and wood grain effect finishes as our double glazing range
Reduce condensation and noise.
Lower heat loss at window edges (through our warm edge spacer bar) makes our glass 3-4°C warmer - cutting condensation by up to 80%. And using our unique high performance Q-Lon weatherseal gaskets with high acoustic performance, Safechoice triple glazing reduces noise pollution too
Reduce your carbon footprint. Cut CO2.
The more energy you use for heating, the more CO2 you create. That's your 'carbon footprint'. Fitting energy efficient triple glazing could cut your CO2 production by as much as 4.7 tonnes a year*
We can triple glaze most options within our PVCu, Aluminium, Composite and Timber collections when you want the ultimate in energy performance and sound reduction
With home heating bills continuing to rise, interest in energy saving home improvement products is increasing and combined with the advancement of glazing technology Triple Glazing is becoming an increasingly popular option for many homeowners
If you demand a truly exceptional glazing performance, triple glazing from Heronhurst simply stands apart

Now you can specify superior thermal insulation and noise reduction in any window style of your choice

Our advanced triple-glazed units are engineered to give you a comfortable, secure, quiet, energy efficient home
We can include Triple Glazing in the majority of our window, door and conservatory systems for installation throughout South Wales including Abergavenny, Newport, Cardiff, Barry, Monmouth, Chepstow and Brecon areas and beyond
Argon filled units to further insulate the glass from heat gain, heat loss and sound pass-through making a more enjoyable environment

Natural colour transparency unlike many heat-reflective glass systems which yellow or grey the view

Innovative Splutter-coat Technology provides life-long heat retention
Down to 0.8u Thermal Performance making heat loss many times better than "normal" double glazing - that means we're a lot better than many of our competitors "low emission" or "heat-reflective" glass systems - know what you are buying and reduce your energy consumption, energy bill and carbon footprint

You could save as much as £7400 with our maximum performance triple glazing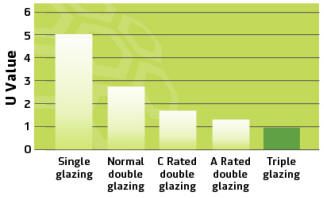 Maximum style, maximum security, maximum performance.
Triple glazed windows from safechoice are unsurpassed in terms of energy efficiency (resulting in reduced heating bills!) and provide the perfect solution for homeowners looking to achieve minimum energy loss - our triple glazing is approximately 60% more thermally efficient than standard C-Rated double glazing and 40% more than a standard A-Rated double glazed window. According to the GGF Energy Savings Calculator standard A Rated double glazing could save you approximately £7400 on your home heating bills over the next 20 years, however triple glazing is 40% more energy efficient and therefore the savings will be significantly higher
* Replacing single glazed aluminium windows with energy efficient 'C' rated double glazing in an average gas heated bungalow/semi. GGF carbon calculator @ 2% inflation.

As Triple Glazing Suppliers and Installers we offer supply and installation services throughout South Wales including Abergavenny, Crickhowell, Usk, Monmouth, Brecon, Chepstow, Cwmbran, Newport, Cardiff and Merthyr areas and beyond

0