Pay Less than everyone else. Get your FREE Card now...
Our Frequently Asked Questions are below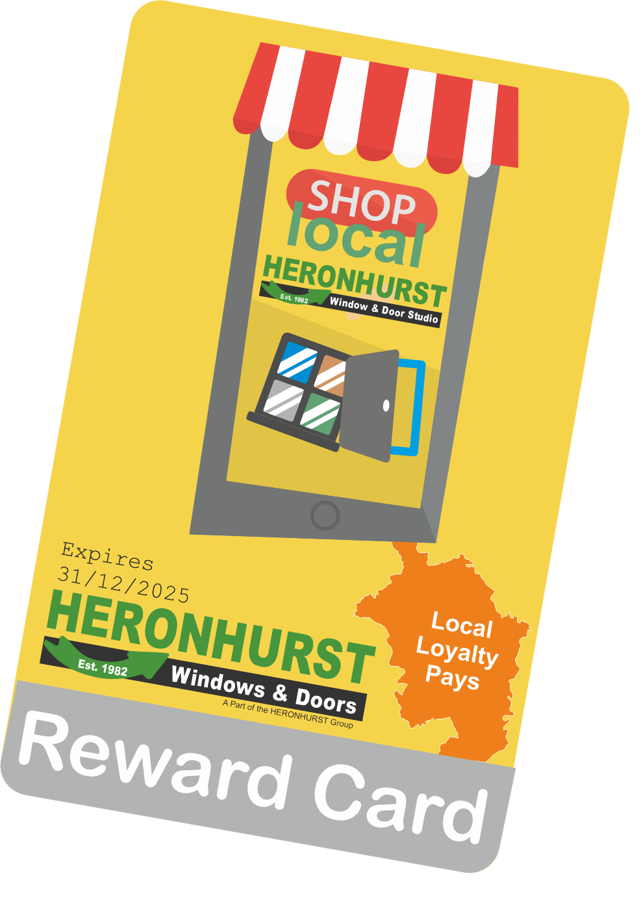 We're local. We're family.
We've been supporting local homeowners like yours since 1982, and we've been fortunate to be supported by local homeowners like you for nearly 4 decades too, who have made us their number one choice for Windows and Doors in Monmouthshire and surrounding areas! To give a little back, in 2018 we introduced ShopLOCAL, our way of reducing our prices across the range for all our most local customers. Not on a time-limited promotion, but always
Apply online or in-store today. Start saving instantly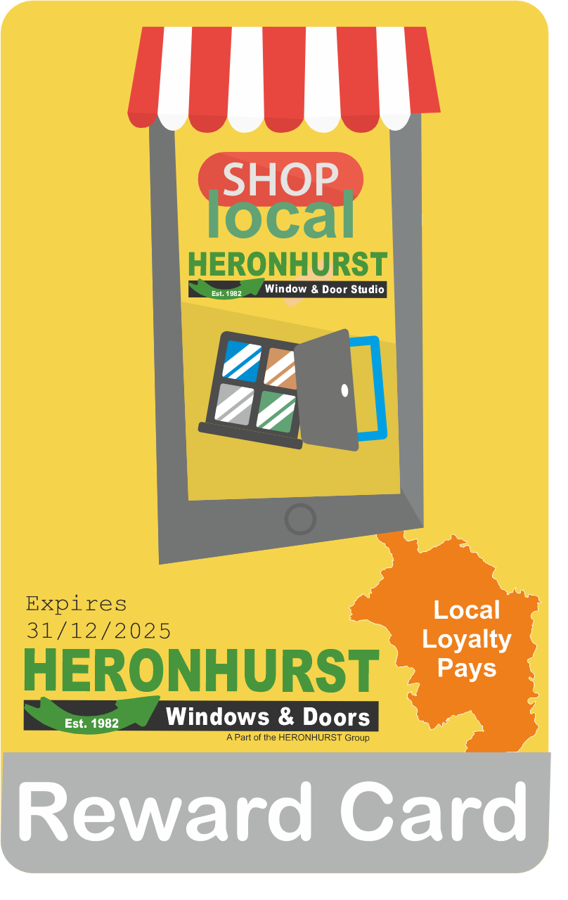 ShopLOCAL Local Loyalty Reward Card
Your Local Loyalty Reward Card from Heronhurst saves you EXTRA MONEY off every participating order for Windows and Doors
That's extra savings that non-card holders simply cannot get
No ifs, no buts, just extra money to keep in your pocket
It's valid against your next purchase of Windows and/or Doors with Heronhurst - and once you have your card, you can even share it with your Friends and Family
Your card is valid for up to 5 years from the date of issue
Your Local Loyalty Reward Card is available completely FREE of charge
You can pick up your card in-store today, or apply online using the quick form below and we will get one in the post to you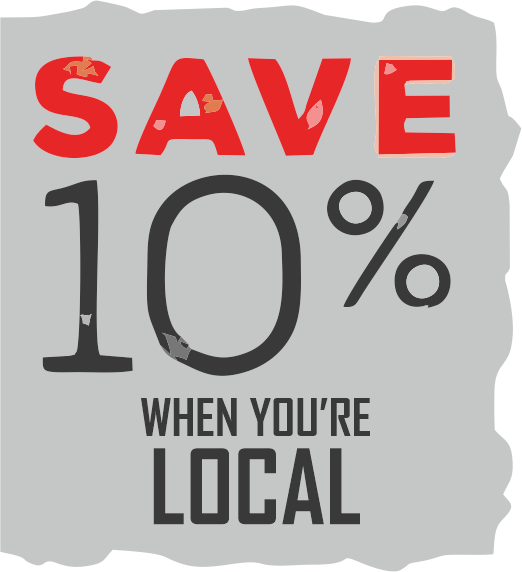 Buy Any Window or Door
Your ShopLOCAL Savings for Card Holders is
10% Discount
Across the range
APPLY FOR YOUR FREE CARD AT THE BOTTOM OF THIS PAGE

Apply for your FREE Local Loyalty Reward Card today

FAQ
Frequently asked questions about the ShopLOCAL - Local Loyalty Reward Card
Is this card available to everyone?
No. It is available exclusively to homeowners living within the postcode areas shown. It is not available outside of these areas, nor is it available to trade, commercial, or supply only customers
Is the discount genuine?
Yes, of course. It is a true and genuine saving off of our normal selling prices. The maximum discount available is £200 on Composite Doors (per door), £1,000 on PVCu Windows, £1,500 on Aluminium Windows, £2,000 on Timber Windows and £1,000 on all Roofing, Roofline and Canopy products, all up to a maximum saving of £3,000 per order, per household, per year
Can I save on every item?
The discount is against the product value of every Window and Door, unless we run a very specific priced offer on a selected product, then you are welcome to save across the range of Windows and Doors - Service products such as replacement glazed units, are excluded from our Shop-Local promotion. We also are unable to discount installation and ancillary services, unfortunately
Why do you offer a ShopLOCAL Discount?
We genuinely believe people should do their best to buy local - we try to source UK manufactured products as much as possible, and even then, the more local to us the better. We want to encourage this from our customers too. Also, it simply costs us less to install and service installations more local to us, so we want to pass this savings on to you
We auto-appy the discount to every Quotation we do within the ShopLOCAL Coverage area, so anyone qualifying automatically gets the discounts. The savings are always shown on your Quotation. Then you just have to activate your membership when or before you order with us. You can do this here
Can I combine the ShopLOCAL savings with other promotions?
Yes, we don't offer many general promotions, because we genuinely believe everyone should be offered our best price, every time. On occasions where there is a promotional or sale running, you can combine savings with very few exceptions (such as ex-display, non-installed items, trade, and service) and save even more!
Can I share my ShopLOCAL Membership Card with my friends and family?
Yes, you can! Just remember to let us know it is registered to you, and make sure you get it back once they've applied their savings
How much does the card save me?
The card gives additional savings - in addition to our great everyday pricing, available to everyone else. The EXTRA savings rate that is currently available is shown on this page, although this may vary from time to time, in line with demand, so always check back. It fluctuates a little depending on deals with our suppliers, availability and more. If you include your email address when you sign-up, we will automatically let you know when the rate fluctuates - so you can take advantage of any one off extra Members-only extra savings or deals - and you can always click and un-subscribe from the mailings (which don't happen very often), but retain use of your card. The only limit is £3,000 savings per order, per household, per year and the individual product range savings limits are shown in our Shop-Local Card Terms (below)
Do I qualify for the ShopLOCAL Card?
Providing you are a residential customer living within and for installations within the following Post Code areas, you qualify
All NP Postcodes including
NP4 Pontypool
NP7 Abergavenny
NP8 Crickhowell
NP10 Newport
NP11 Blackwood
NP12 Blackwood
NP13 Abertillery
NP15 Usk
NP16 Chepstow
NP18 Newport
NP19 Newport
NP20 Newport
NP22 Tredegar
NP23 Ebbw Vale
NP24 New Tredegar
NP25 Monmouth
NP26 Caldicot
NP44 Cwmbran
Selected LD Postcodes including
Selected HR Postcodes including
HR1 Hereford
HR2 Hereford

HR9 Ross on Wye

Selected CF Postcodes including
CF47 Merthyr Tydfil;
CF48 Merthyr Tydfil
If you live outside of these areas, we are still happy to welcome you as a customer, and you will have our normal everyday great value pricing, but we, unfortunately, won't be able to offer you the same extra savings as our local customers enjoy with ShopLOCAL. If you believe you live within a border area, please get in touch and we will do our best to make Shop-Local available to you
Alternatively, if you have been recommended by a family member or friend with a Shop-Local Card then you can claim the savings, using their card
Shop Local - Local Loyalty Reward Card Terms
Shop Local - Local Loyalty Reward Cards are available exclusively within a limited area and postcodes and are limited to 50 successful applications per month

Extra Discount Savings

can be made against any participating domestic Window and Door quotation and purchased between 01.02.2018 and 31.12.2025 at Heronhurst, excluding ex-display or fixed price specials, maintenance works,

parts, aftersales service, sealed unit replacement, building works, scaffolding, trade, and commercial orders. There is no discount on Installation or Ancillary Services or Legal Services such as FENSA Registration

fees, etc.




The

maximum discount available

is £200 on Composite Doors (per door), £1,000 on PVCu Windows and Doors, £1,500 on Aluminium Windows and Doors, £2,000 on Timber Windows and Doors and £1,000 on all Roofing, Roofline and Canopy products, all up to a maximum saving of £3,000 per order, per household per year



The right to withdraw or restrict the use of the Local Loyalty Reward Card is maintained

You must present your card at the time of quotation, and again at the time of order, as discounts cannot be applied retrospectively

If a

promotional time limited extra discount

is offered

in addition

to Shop-Local customers, as may happen from time to time, this extra discount only cannot be combined with any other savings, discounts, vouchers or deals. The standard Shop-Local discount saving can still be combined with any other offer unless explicitly stated
Detailed Written Quotations
No ifs or buts, a clear yet comprehensive written specification with graphic visual follows every quotation
Technical Survey Included
Our experienced qualified Surveyor carries out a final Technical Survey prior to manufacture, for final check-off and final dimensions then oversees your project

On-Time
Reliable supply chain, our own installation teams, and careful in-house project management mean installation when you expect it
Long Term Warranties
A long term guarantee you can rely on, which as a family business we've honoured them for nearly 4 decades