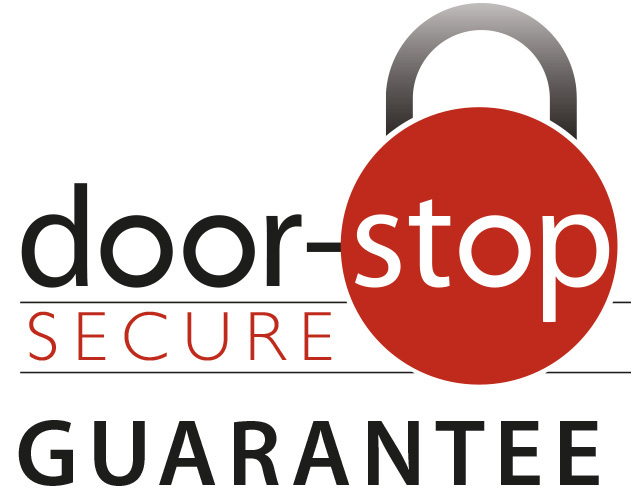 Door-Stop's Secure Guarantee
Having a door fitted will not always guarantee the latest security. Burglars are pretty good at finding the weak points, but with the Door-Stop ERA lock it's so difficult to break in to that in the extremely unlikely event it does happen we offer our Secure guarantee.
Register your door with us here (or by post) once it's fitted. Then in the unlikely event you have a break-in because the door lock has been broken, complete a claim form with your crime reference number and we'll begin the process of replacing your door - FREE - along with £500 compensation
With the Secure Guarantee, if your door's lock is beaten we promise to...
Replace your door. For FREE.
Give you £500.
Transfer our promise to the next homeowner.
For the next 10 years.
Frequently Asked Questions
How do I get the Door-Stop Secure Guarantee?
It's really easy. Make sure that your door is fitted with the ERA lock , then register it directly with Door-Stop (remember you can choose from a number of different lock systems on the Door-Stop door, and this offer applies exclusively to doors specified with the ERA lock system - so make sure you have specified it at point of quotation)
How much does the Door-Stop Secure Guarantee cost?

Absolutely nothing

How do I register my door?
On the hinge edge of your door, you will see an energy rating certificate. On this certificate is your door registration number (starting with DS). You will need this number to complete the registration process online here, or by post using the registration card in the homeowner pack that accompanies your door
How is the Heronhurst involved?
The Door-Stop Secure Guarantee is a promise straight from Door-Stop to you. Heronhurst does not need to be involved in either the registration or claims process
How to Claim
As with any crime, you need to report it to the police immediately. Then when they have investigated and provided a crime number, let us know by filling in this form or sending back the claim card in your homeowner pack.
Door-Stop will arrange for an ERA engineer to visit you to assess the damage. At the same time, we will send you out a claim form. Please complete this and return it to us within 28 days.
Door-Stop, once in receipt of the engineers report and claim form, will write to you to confirm the status of your claim, and to make an appointment for reinstallation. Please note, the replacement door shall be indentical in specification to your original door. In the event that a component of your original door has been superceded at the time of a claim we reserve the right to change specification.
We'll then send you a cheque for £500!
Secure Guarantee Terms
The Door-Stop Secure Guarantee is only valid when these terms and conditions are met in full...
The guarantee registration form has been fully completed (either by post or online at www.door-stop-doors.co.uk) and received by Door-Stop International Ltd. within 28 days of the door(s) being fitted.
The door must be securely closed and locked with the keys provided.
The door has been fitted and adjusted according to Door-Stop's approved fitting instructions – available upon request.
The guarantee will only be available provided no modification, repair or alteration of the door has been made without our approval.
In the event of a break-in where a Door-Stop door is forced open, you must contact Door-Stop with full details and a police incident number (crime number). If on investigation, it is found that the ERA lock was correctly installed, adjusted and maintained but failed during the break-in, we will then issue the relevant payment. The payment will be made in two parts (i) £500 to the registered claimant; and (ii) the cost of the replacement door, fitted by the original door supplier or equivalent.
Claims are subject to the property being occupied and furnished.
Only one claim per household can be made during the guarantee period (10 years) and notification of any claim must be made within 90 days of the break-in.
The guarantee will be valid for as long as you continue to live at your current address or for a period of 10 years from registration which ever is longer. If you sell your house you may pass the benefit of the guarantee to your purchaser for the outstanding period.
Any queries concerning this guarantee should be made in writing to Door-Stop Secure Guarantee, Door-Stop International, Export Drive, Huthwaite, Nottinghamshire, NG17 6AF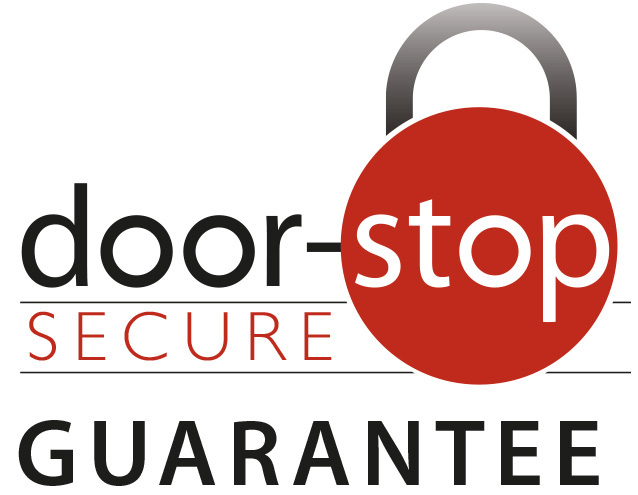 PLEASE NOTE YOU MUST REQUEST YOUR DOOR IS FITTED WITH THE ERA LOCK AT POINT OF QUOTATION AND ORDER TO ENSURE YOU QUALIFY FOR THE DOOR-STOP SECURE GUARANTEE, AND REGISTER ONLINE. No other lock from Door-Stop qualifies for this extra guarantee
This promotional guarantee is provided direct by Door-Stop to the homeowner and is not administered by Heronhurst
0