GRP Mouldings and Canopies
Manufactured using Glass Reinforced Plastic, our GRP door canopies, surrounds and porticos offer an easy to fit and simple to maintain alternative to more traditionally built front door canopies. Designed with ease of installation in mind, these canopies can be put in place much quicker than traditional options. A GRP door canopy will never rot and requires no painting or maintenance aside from an occasional wipe down with warm soapy water
Portico
A portico is a functional yet stylish way to add a touch of class to the front of your home by transforming the appearance of your doorway.
Our portico designs incorporate dentil mouldings on the triangular front, with these classic lines serving to create an elegant and aesthetically pleasing structure that can improve the appearance of the property.
Porticos can incorporate a range of designs, such as those supported by fluted columns (as pictured), plain column, or half columns. Porticos can be installed as a canopy over the door, or as a porch roof with windows fitted underneath.
As a large over door canopy, a portico can offer shelter from inclement weather conditions, which can be useful when you are locking or unlocking your front door. It can also offer protection for people who are waiting at the door.
Designed to be fitted easily and quickly, our porticos can be erected by following the details in the fitting instructions document. Electrical cable can be fitted prior to the portico's installation to enable a light to be fitted on the portico ceiling.
Coming in a standard white finish, our portico products are customisable to suit your preference and property, available with self coloured roof option or a grey lead effect roof. We are also able to add a decorative plaque to the portico as an optional extra. Our porticos are available in a range of sizes, with the standard options being 2000mm, 2500mm and 3000mm wide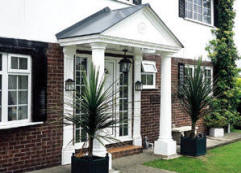 Over Door Canopies
Door canopies can be a superb solution to add value to any home by improving its appearance. Easy to install and maintain, a door canopy is a cost effective and simple way to transform and enhance the entrance to any home. We are able to produce a wide range of door canopy designs which suit any property, regardless of its age or style.
Also offering protection from the elements, over door canopies are functional as well as visually appealing. The main use of an over door canopy is to improve the aesthetics of a building, and this simple installation can increase the value of any home by adding 'kerb appeal' to the property. They can be used as a front door canopy or a porch canopy
Door Surrounds
Our GRP door surrounds are available in a number of styles and will enhance and transform any doorway or entrance. They are moulded from rigid maintenance free satin finish GRP which is very durable and comes with a 10 year guarantee.
Available in 6 different colours and a range of standard and custom sizes. Our entrance surrounds are fast and easy to install and can be adapted for most doorways and entrances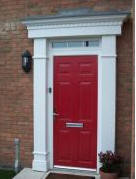 Columns & Pillars
Our GRP columns and pillars are manufactured to be strong and lightweight, making them easy to install and handle. Our pillars and columns are available as plain or fluted designs in white, light oak, brown & rosewood. They are can be combined with our selection of canopies to create porticos and porches for decorative appeal but also as a load bearing structure by filling the columns with steel rods and concrete.
The columns and pillars are easy to install, the height can be altered using a fine tooth saw and adding column packers. Other than washing, they will give many years of trouble free service and come with a 10 Year Guarantee against manufacturing defects
.

As Approved Installers for APC Moulding and Canopies, we offer our dedicated survey and install service throughout South Wales including Abergavenny, Crickhowell, Usk, Monmouth, Brecon, Chepstow, Cwmbran, Newport, Cardiff and Merthyr areas and beyond



0